Telford College's Automotive team partners with carbon cleaning specialists FlexFuel Energy Development
Telford College and its Automotive team is now including engine cleaning through hydrogen gas injection using technology from engine cleaning specialists FlexFuel Energy Development UK (FFEDUK) as part of its apprentices training. In doing so, it will guarantee the mechanics of tomorrow are informed on the modern approaches to ensuring engines run more smoothly, efficiently and cleanly.
FFEDUK has provided its Hy-Carbon 1000s cleaning station to the college's automotive teaching team. The team will be using the station to demonstrate how hydrogen gas acts as a natural solvent on carbon build up in key engine components that can cause premature part failure; power loss to the engine, reduced fuel economy and increased emissions.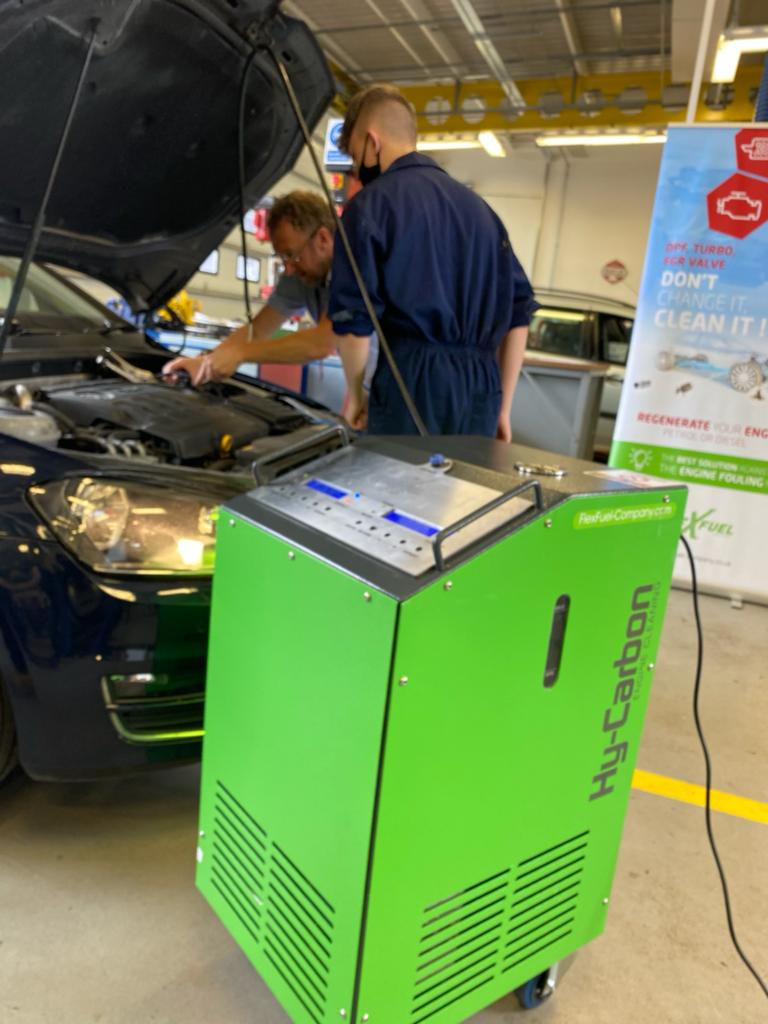 Robert Hands, lecturer at the College's Automotive team comments: "The only constant in the automotive sector is change. Advances and improvements in how engines run are constantly evolving and as such, our approach to maintenance and servicing also needs to change. Our apprentices need to be fully informed on the latest approaches to engine servicing. It is not always about ripping out and replacing faulty parts, it's about understanding how to prolong the longevity of components and addressing potential issues before they arise. By integrating carbon engine cleaning with hydrogen gas injection as part of an annual service plan, consumers can better protect their engine and garages benefit from a very profitable additional revenue stream.
"Our apprentices, the future technicians, need to understand the latest technologies on the market that can help them make a rewarding career from the automotive sector.
Anthony Harris, national sales manager for FFEDUK comments: "We are very proud that Telford College is now including our technology as part of its apprentice programme. It is further evidence of the effectiveness of our technology at addressing carbon build up in diesel and petrol engines. Increased carbon build up affects turbos, EGR, DPF and emissions and other areas of the engine. In turn, this prevents the engine from running efficiently and is responsible for increased fuel costs, poor engine power and increased emissions. "
FFEDUK has recently introduced its latest innovation in carbon cleaning with hydrogen gas injection, the Hy-Carbon Connect. Hy-Carbon Connect is a fully automated, intelligent and digitally connected carbon cleaning machine. It is the only carbon cleaning machine that includes integrated diagnostics.
The Hy-Carbon Connect builds on the latest developments in Artificial Intelligence. Hy-Carbon Connect learns characteristics of engine makes, fault codes, model, age and number of miles driven from all the Hy-Carbon Connect machines in use around the world. The more data on engine types it collects, the more targeted clean can be applied. Put simply, the machine gets better the more it gets used, better understanding the treatment specific engines require.
Other articles on the same subject
back to top